President
Richard Elliott
2016-2018
President-Elect
David Parker
Past President
Herb Brodin
2014-2016
Past-President
Robert Gillett
2013-2015
Historian/Secretary
C Glenn Tadina
Board Members
Charles Bolton
Ben Brooks
Dale Cleland
Bill Franklin
Herb Kost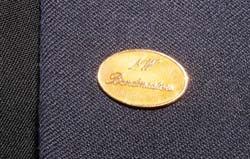 Welcome to the Northwest Bandmasters Association.
For an introduction to the Northwest Bandmasters Association click NWBA.
It is recommended for members to visit the website periodically for special bulletins, meeting notices, Annual Fall Banquet and notices of deceased members. If there is not an answer to a question you have not found on our webpage, Contact Us
We have two social events during the year. Our Annual Banquet is scheduled for Sunday October 22, 2017, location is tentatively the Airport Shilo Inn at which time we will induct new members. This is not a business meeting. The other social event is our Summer/Picnic Board Meeting.
Registration forms with meal choices and cost for the Fall Annual Banquet will be mailed the last week of August. The registration form will also include dues payment information. Be sure to reserve the October 22, 2017 date.
The 2017 Summer Board Picnic/BBQ Meeting was held on July 16, 2017, George Fox Music Building, Green room. 12:00 noon.
ROBERT DUVALL MUSIC LENDING LIBRARY: If you are involved in a Community Concert Band, you may be interested in music available from the ROBERT DUVALL MUSIC LENDING LIBRARY. We recently had seventy-five concert band selections donated to the Robert Duvall Music Lending library. If you have a library of concert band music you are no longer using, consider donating them to the library. Do you know of a school who may be down-sizing their library and purging band arrangements they no longer want, or have duplicate copies of music they do not need? We would be interested in adding them to the DUVAL MUSIC LENDING LIBRARY. We are currently in the process of developing a new page on our website that will include more information and also a current index of band titles available.
We recently received 10 boxes of music donated by the Portland Elks Lodge #142 band library. The library was moved in July 2016 from Glenn Tadina's residence to Tacoma Community College where the library will be managed by music students as part of their music training. Glenn has managed the library for the past ten + years and will still continue with a minor roll in the library.